Turnkey Projects
Electrical Sub-Station & System Jobs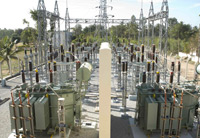 Indoor and Outdoor Electrical Sub-Stations upto 220KV.
Power Distribution System Improvement Projects.
Industrial Electrification Projects.
Executed more than 75 Nos of Turnkey Contracts.
References

Currently executing Rs. 660 Million WORLD BANK AIDED.
Contract for GRID corporation of Orissa (State).
Rs 336 Million WORLD BANK AIDED Contract for Andhra Pradesh State Electricity Board, India.
For Further Details Please Contact :
Director (Planning)
E Mail : dir.plg@andrewyule.com
Phone : (91-33) 2243-4628.
Fax : (91-33) 2243-4628 (HO) / (91-33) 2449-1184.
Engineering & Process Plants
Pressure Vessels.
Storage Tanks.
Gas Boosting & Recovery system.
Turnkey Contracts involving Structural, Fabrication, Mechanical, Electrical, Instrumentation, Erection, Testing and Commissioning.
References

Rs. 117 Million IN-SITU Combustion Project for ONGC,India.
Rs. 70 Million Gas Boosting Project for BF-4 of Durgapur Steel Plant, India.
For Further Details Please Contact :
Phone : (91-33) 2243-4628.
Fax : (91-33) 2243-4628 (HO) / (91-33) 2449-1184