Switchgears & Transformers
Product Range
Switchgears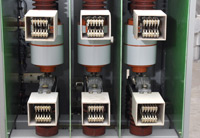 Vacuum Switchgears : Metal & Porcelain Clad upto 12 KV.
HT Switches : Pole mounted upto 12 KV.
Vacuum Contactors & Field Switches upto 6.6 KV.
Vacuum Break Auto Reclosers and Sectionalisers upto 12KV.
SF6 Capacitor Switches : Pole mounted upto 12 KV.
Load Interrupters upto 36 KV.
Load Break Switches upto 12 KV.
Bulk Oil Switch Gears upto 12 KV.
Switch Fuse Units upto 12 KV.
Ring Main Units upto 12 KV.
Flame Proof Switchgears

Vacuum Circuit Breakers upto 6.6 KV.
Mobile Unitised Transwitch Units upto 6.6 KV.
Motor Starters : Online Starters, Air Break Contractors, Reversing Air Break Contractors & Air Break Star-Delta Starters 440/550 V upto 150 HP Gate End Box 550V, 300 A.
Leading manufacturer of Mining Switchgears in India.
Transformers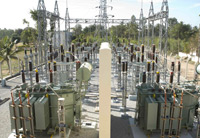 Power & Distribution Transformers upto 132 KV & 50 MVA.
Dry Type Transformers both FLP & Non-FLP versions.
Special Transformers - Furnace/Earthing, Booster,Converter and Lighting.
Voltage Regulators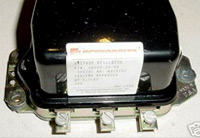 Automatic Step Voltage Regulators upto 12KV 15% fluctuation, suitable for Power Distribution System.
Automatic Stepless Voltage Regulators upto 33KV 40% fluctuation, suitable for Industries, Process Plant and Tele-communication Systems.
Test Voltage Regulators upto 33KV.
LT Control Gears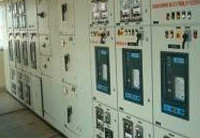 Air Break contractors upto 800 A.
Moulded Case Circuit Breakers upto 630 A.
Thermal Overload Relays upto 630A.
Motor Control Centres upto 350A, 50KA.
Industrial Starters (online) upto 369KW.
---
---
For Further Details Please Contact :
Phone : (91-33) 2243-4628
Fax : (91-33) 2243-4628 (HO) / (91-33) 2449-1184